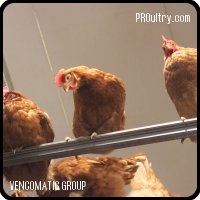 SPACE Hall 10 - Stand B24

Vencomatic developed a solution that stops red mites from reaching the hen: the Q-Perch.
Poultry red mite is a small pest that causes poor bird health, decreases egg production and reduces egg quality. Red mites feed themselves at night with the blood of hens, when the hens are resting on perches.
Q-Perch offers a continuous line of defense, reducing the number of red mites in the poultry house. Additionally, the design of Q-Perch offers more comfort and stability, resulting in a better rest at night.
Integrated in the Q-Perch are two barriers. Low intensity electrical signals are sent through these barriers in order to kill the red mite on its way to the hen, while guaranteeing the chicken's and the farmer's security.
Pesticides can be eliminated and the hens can rest in the Q-Perch at night without being infested by red mites. This leads to better health, improved egg quality and increased production.
Product Videos
1 video
Related categories Q-Perch
1 Category
Roosts
Related Products
1 Product
Other products of VENCOMATIC GROUP
1 producto
VENCOMATIC GROUP

Vencomatic Group offers solutions in housing, egg handling and climate control for any type of poultry house. With our slogan 'Think ahead with poultry people' we underline our innovative character and express how we value our customers and partners.
Peter Vingerling (CCO); "We strongly believe in working together to ensure optimum results now and in the future".
See company
Price and product availability