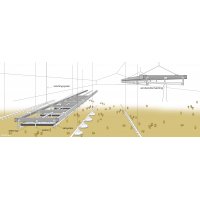 The X-Treck is a unique concept that enables on-farm hatching in traditional broiler houses. X-Treck provides an optimal start resulting in robust broilers and forms the basis for further profitability in broiler production.
In the X-Treck, setter trays with 18 day-incubated eggs are placed on a rail system that is suspended over the length of the broiler house. The rail system is positioned freely in the air, ensuring an optimal airflow surrounding the eggs during hatching. Controlling the systems' height with a winching system, the farm manager has an easy to use tool to control the airflow and temperature surrounding the embryo.
Options:
Complementary to the X-Treck is an automatic setter tray transport system. It automates the process of transporting the setter trays from the front to the backend of the house. This reduces manual labour and increases user friendliness.
An electronic winch allows you to further automate the process in the broiler house. It replaces the manual winch and thereby offers a further reduction in manual labour.
With the In-Cradle system the care for the newly hatched chicks is further optimized. Directly after hatching, chicks land on a synthetic surface where they recover from hatching before accessing the litter floor below. The In-Cradle system is easily positioned underneath the X-Treck.
Product Catalog

Product Videos
1 video
Related categories X-Treck
1 Category
Hatcheries
Related Products
1 Product
Other products of VENCOMATIC GROUP
1 producto
VENCOMATIC GROUP

Vencomatic Group offers solutions in housing, egg handling and climate control for any type of poultry house. With our slogan 'Think ahead with poultry people' we underline our innovative character and express how we value our customers and partners.
Peter Vingerling (CCO); "We strongly believe in working together to ensure optimum results now and in the future".
See company
Price and product availability