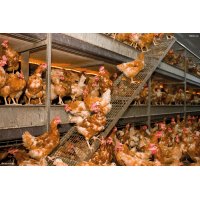 With the two-tiered Veranda Aviary you have full control over your layers. Each tier offers feed, water and nest space, providing easy access for all hens to these essentials. Exterior ramps facilitate access to both levels and the scratching area.

The Veranda Aviary:
- is a safe choice, regardless of the rearing system;
- prevent eggs remaining in the system
- maximises the number of birds per manager.

The Veranda aviary fits into any poultry house thanks to its compact configuration. Its clever structure ensures a controllable environment and thus easy management. Inspection of the nests is simple thanks to the winchable back walls that give direct access to the nest and egg belt.

The nest is designed using smart Vencomatic innovations including the Vencomat, the tipping floor and the egg belt and can be extended with the Vencobelt and Vencoslat. With these innovations you collect your hatching eggs in perfect condition.
Product Videos
1 video
Related categories VERANDA AVIARY
1 Category
Aviaries for laying hens (in production)
Related Products
1 Product
Other products of VENCOMATIC GROUP
1 producto
VENCOMATIC GROUP

Vencomatic Group offers solutions in housing, egg handling and climate control for any type of poultry house. With our slogan 'Think ahead with poultry people' we underline our innovative character and express how we value our customers and partners.
Peter Vingerling (CCO); "We strongly believe in working together to ensure optimum results now and in the future".
See company
Price and product availability