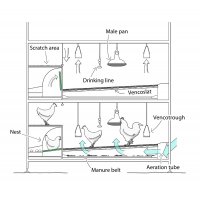 The Veranda Breeder is a multi-tiered group housing system for breeders. Birds are housed in groups assuring a uniform distribution of males and females and reducing stress within the flock. While using vertical space, the Veranda Breeder departs from the conventional floor design, increasing the number of birds for the floor area used. Combined with a high level of automation, this enables the farm manager to manage high numbers of breeders.

The plastic slatted floor provides a perfect hygienic setting for valuable hatching egg production. Its open structure allows manure to fall through keeping a hygienic environment and preventing birds from bringing manure into the nest. Large aeration tubes are positioned between the manure belts and the slats, providing fresh air at bird level and onto the manure belt to dry the manure. This reduces dust and the emission of ammonia to an absolute minimum improving the air quality in the house. In combination with the Clima⁺ heat exchanger of Agro Supply you can fully control the climate and guarantee a healthy environment for both the workers and the birds.

The nest is designed using smart Vencomatic innovations including the Vencomat, the tipping floor and the egg belt and can be extended with the Vencobelt and Vencoslat. With these innovations you collect your hatching eggs in perfect condition.
Product Videos
1 video
Related categories VERANDA BREEDER
1 Category
Aviaries for laying hens (in production)
Related Products
1 Product
Other products of VENCOMATIC GROUP
1 producto
VENCOMATIC GROUP

Vencomatic Group offers solutions in housing, egg handling and climate control for any type of poultry house. With our slogan 'Think ahead with poultry people' we underline our innovative character and express how we value our customers and partners.
Peter Vingerling (CCO); "We strongly believe in working together to ensure optimum results now and in the future".
See company
Price and product availability