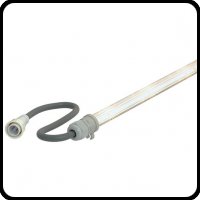 BUBO: una solución de iluminación agrícola de LED en forma de tubo que puede utilizarse en sistemas de jaulas enriquecidas o aviarios. En los sistemas de jaulas enriquecidas, BUBO asegura que la iluminación dentro de la jaula sea equilibrada y se aplique en el lugar correcto. En los aviarios, BUBO proporciona la iluminación apropiada dentro del sistema para estimular un buen consumo de alimento y agua. Puede regularse del 0 al 100% y no parpadea, lo que asegura el bienestar de los animales.
Para satisfacer al cliente, BUBO es una solución de iluminación segura (24 VCC / 48 VCC), de alta calidad y fiabilidad, con eficiencia energética y fácil de instalar (plug & play).
El producto está disponible con luz blanca cálida, ámbar, azul y verde.

Product Videos
1 video
Related categories BUBO
1 Category
Lighting
Related Products
1 Product
Other products of HATO BV
1 producto
HATO BV

At Hato Agricultural Lighting, we understand the importance of good lighting for the health and performance of poultry. Hato has a range of solutions for different poultry areas. Our outstanding technical performances, light distribution and unique 'comfort light' combination enables the creation of a high-quality climate for your poultry with the best lighting results.
See company
Price and product availability