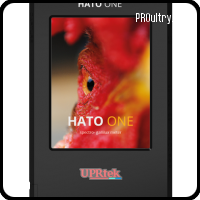 El único medidor de luz "todo en uno" en el mercado para aves.
HATO ONE es imprescindible para todos los especialistas avícolas que buscan mejorar el bienestar y el rendimiento de las aves de corral. Medida. Análisis. Mejora.

Medida
HATO ONE es un luxómetro"todo en uno" que mide todos los aspectos clave de la iluminación para naves avícolas: lux, gallilux, parpadeo, espectro, CRI o Índice de Reproducción Cromática y mucho más. Las mediciones se pueden realizar a mano o a distancia mediante una aplicación en el móvil.

Análisis
Compare los datos de medición de distintas lámparas, necesidades de aves de corral o incluso necesidades humanas y asigne directamente las acciones de mejora. Los datos medidos se pueden exportar a un ordenador para un análisis posterior sin necesidad de internet.

Mejora
El análisis de todos los datos permite al usuario identificar si la iluminación en una nave avícola es la correcta y los aspectos que se necesitan mejorar, para así mejorar el bienestar del animal y los resultados de la granja.
Product Videos
1 video
Related categories HATO ONE
1 Category
Lighting
Related Products
1 Product
Other products of HATO BV
1 producto
HATO BV

At Hato Agricultural Lighting, we understand the importance of good lighting for the health and performance of poultry. Hato has a range of solutions for different poultry areas. Our outstanding technical performances, light distribution and unique 'comfort light' combination enables the creation of a high-quality climate for your poultry with the best lighting results.
See company
Price and product availability