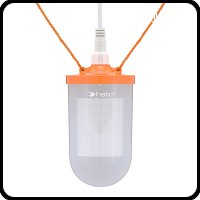 STERNA: una solución de iluminación agrícola de LED para jaulas de ponedoras tradicionales. Este producto de HATO tiene recubiertas las superficies dirigidas hacia las jaulas para un máximo confort de los animales. Es una lámpara sin parpadeos, regulable del 0 al 100 % para reducir el estrés de los animales. Al permitir un manejo apropiado de la iluminación, STERNA consigue aumentar el peso de los huevos y/o la calidad de la cáscara.
Para asegurar la satisfacción del cliente, es una solución de iluminación de LED segura (48 VCC), de alta calidad y fiabilidad, con eficiencia energética (9,4 W) y fácil de instalar (caja de conexión).
ESPECIFICACIONES:
Tensión: 48 VCC
Consumo de potencia: 9,4 W
Cantidad de luz emitida: 820 lm
Eficiencia: 87,2 lm/W
Intervalo de regulación: 0 - 100%
Vida útil media esperada: 50.000 h
Índice de protección: IP67
Product Videos
1 video
Related categories STERNA
1 Category
Lighting
Related Products
1 Product
Other products of HATO BV
1 producto
Product Website
https://www.hato.lighting/es/sterna
HATO BV

At Hato Agricultural Lighting, we understand the importance of good lighting for the health and performance of poultry. Hato has a range of solutions for different poultry areas. Our outstanding technical performances, light distribution and unique 'comfort light' combination enables the creation of a high-quality climate for your poultry with the best lighting results.
See company
Price and product availability