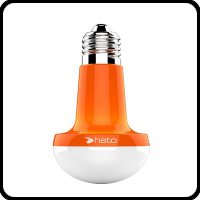 WOW es la solución de reposición ideal para transformar un alojamiento con iluminación tradicional en uno moderno iluminado eficientemente con LED. Este producto de HATO de 96 VCC proporciona el adecuado espectro luminoso, intervalo de regulación y grado de protección (IP67, para una limpieza fácil) para responder a las necesidades actuales de los alojamientos avícolas.
Las bombillas WOW tienen un espectro de luz adecuado. Dado que las aves de corral son muy sensibles a la luz - y en particular a unas longitudes de onda específicas - HATO asegura que cada color está representado proporcionalmente.
Es perfecta para naves de pollos y ponedoras con instalación de bombillas de rosca E27; el espectro completo de luz blanca cálida es muy agradable para el ojo sensible del ave de corral. A diferencia de muchas bombillas LED comunes, la WOW no tiene parpadeo. Aunque los humanos no lo perciben; una luz con parpadeos es muy estresante para el ave de corral.
La lámpara está diseñada con un objetivo en mente; ser una gran solución de ilimunación que satisfaga las altas exigencias de uso en una granja avícola.

Product Videos
1 video
Related categories WOW
1 Category
Lighting
Related Products
1 Product
Other products of HATO BV
1 producto
HATO BV

At Hato Agricultural Lighting, we understand the importance of good lighting for the health and performance of poultry. Hato has a range of solutions for different poultry areas. Our outstanding technical performances, light distribution and unique 'comfort light' combination enables the creation of a high-quality climate for your poultry with the best lighting results.
See company
Price and product availability