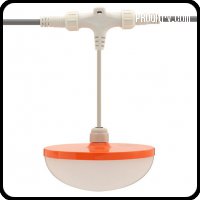 PULSA: el estándar para las aplicaciones de iluminación en la avicultura actual según informan los numerosos usuarios en todo el mundo. Este producto de HATO puede utilizarse en alojamientos de pollos de engorde, gallinas ponedoras y ganado porcino. Una distribución uniforme de la luz y un espectro luminoso perfecto aseguran un manejo correcto de la luz que evita las sombras y, en consecuencia, el agrupamiento. La lámpara PULSA puede regularse del 0 al 100% y no parpadea, lo que junto con los demás factores mencionados aumenta el bienestar de los animales.
Su alta eficiencia, larga vida útil, facilidad de instalación y de limpieza (índice de proptección IP67) consiguen la satisfacción del cliente.
La principal diferencia con CORAX es que gracias al conector en "T", PULSA puede instalarse fácilmente mediante un sistema de conectar y usar (plug & play).
Este producto está disponible con luz blanca cálida, blanca a roja, blanca a azul, blanca a verde, verde a azul, roja, verde y azul.

PULSA XL: ofrece 1759 lm, que es un 86% mayor que la emisión de luz de la PULSA estándar. esto hace que esta solución XL sea perfecta para los alojamientos de aves reproductoras y de ceerdos. Grandes resultados con menos luminarias: todos salen ganando.

Product Videos
1 video
Related categories PULSA
1 Category
Lighting
Related Products
1 Product
Other products of HATO BV
1 producto
HATO BV

At Hato Agricultural Lighting, we understand the importance of good lighting for the health and performance of poultry. Hato has a range of solutions for different poultry areas. Our outstanding technical performances, light distribution and unique 'comfort light' combination enables the creation of a high-quality climate for your poultry with the best lighting results.
See company
Price and product availability