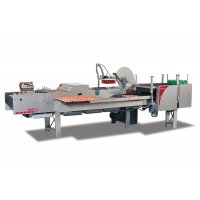 The Prinzen PSPC series takes automation of hatching egg setting one step further, placing hatching eggs directly onto setter trays, with an unsurpassed points down setting. These trays are automatically fed and brought into position. The Prinzen egg transfer system lifts and places eggs gently onto the trays. The PSPC machines have a capacity of up to 22.000 eggs per hour depending on the type of setter tray. This allows you to reduce labour time, while still maintaining egg quality. The compact machine offers a good overview, allowing you to observe the eggs throughout the complete process. The machines are easy to operate. The stainless steel construction and service accessibility make cleaning quick and easy.

There are two types, the PSPC 5 and PSPC 7. The PSPC 5 sets onto trays with a parallel matrix. The PSPC 7 gives you even more flexibility handling both parallel and offset matrix trays, which makes it unique in its kind. Both machine types also process 30 cell cardboard and plastic trays.
Product Videos
1 video
Related categories PSPC egg setting machine
1 Category
Egg packer for commercial eggs
Related Products
1 Product
Other products of VENCOMATIC GROUP
1 producto
VENCOMATIC GROUP

Vencomatic Group offers solutions in housing, egg handling and climate control for any type of poultry house. With our slogan 'Think ahead with poultry people' we underline our innovative character and express how we value our customers and partners.
Peter Vingerling (CCO); "We strongly believe in working together to ensure optimum results now and in the future".
See company
Price and product availability