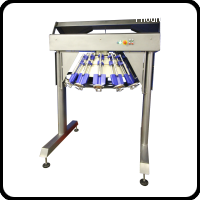 The Thigh Deboner is specially designed to debone dark meat, meaning thighs and drums, in a cost-effective and efficient manner. The machine is based on the industry-tested "diaphragm" principle. The main parts of the deboning units are a rubber disc with a hole in it – the diaphragm – and a metal shaft which debones the meat. The thighs are placed on the diaphragms. The shaft then extrudes downwards to press the bone out of the thigh. The disc retains the meat, while the bone is pushed through the hole. In this process almost all meat is stripped off the bone, resulting in minimal meat loss during deboning. Efficient deboning allow for greater profitability.


Deboning capacity of up to 2400 pieces per hour


The machine enclosure allows for a safe operation and meets modern safety standards and regulations.


Its construction allows for easy unloading of thighs and drums in crates or bins or a conveyor for product out-flow.


Designed with improved ergonomics in mind, cleaning and maintenance can be carried out easy and quickly.


Optional knuckle saw device to allow for drumstick cutting on the same deboner


Different size diaphragms can be utilized to accommodate for various thigh and drumstick sizes


Product Videos
1 video
Related categories Drum / Thigh Deboner
1 Category
5-.Cut-up, Deboning, Skinning, Portioning and Slicing
Related Products
1 Product
Other products of Dutch Poultry Technology
1 producto
Dutch Poultry Technology

DUTCH POULTRY TECHNOLOGY B.V. is a Dutch manufacturing and engineering company specialized in the design, manufacturing and installation of cost-effective, reliable, easy to install and operate poultry processing solutions for processing 500 – 6000 birds per hour.
Our semi- and full automatic processing solutions are based on proven technology and 30+ years of automatic processing experience. Lean engineering and manufacturing greatly reduce production, installation and operation costs.
See company
Price and product availability