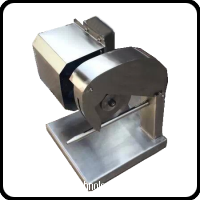 It is economically feasible to choose automatic cut-up starting from 2000 birds per hour and upwards. At lower capacities however, there are cost-effective tools available to enable clean, efficient cuts without making large investments into automatic systems. The manual cutting saw is a great step up from complete manual cutting. Its engine driven rotating saw will greatly simplify and speed up the cutting process. A single operator is required to feed and cut the product. These saws, which are manually fed, are used to remove the legs, separate drums / thighs, cutting the wings and splitting the breast in two.


For manual cutting of poultry, thigh/drumstick separation;


Device will greatly improve worker productivity;


Designed to provide clean and efficient cuts with minimal product damage;


To be installed on a table (optional, not standard included);


Optional: left or right handed set-up;


made of stainless steel and other non-corrosive materials;


motor power 0.75 kW;


230v, 50Hz.


Product Videos
1 video
Related categories Manual Cut-up Saw
1 Category
5-.Cut-up, Deboning, Skinning, Portioning and Slicing
Related Products
1 Product
Other products of Dutch Poultry Technology
1 producto
Dutch Poultry Technology

DUTCH POULTRY TECHNOLOGY B.V. is a Dutch manufacturing and engineering company specialized in the design, manufacturing and installation of cost-effective, reliable, easy to install and operate poultry processing solutions for processing 500 – 6000 birds per hour.
Our semi- and full automatic processing solutions are based on proven technology and 30+ years of automatic processing experience. Lean engineering and manufacturing greatly reduce production, installation and operation costs.
See company
Price and product availability