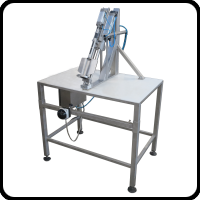 Semi-automatic thigh deboner for deboning up to 300 thighs per hour (depending on operator skill and product characteristics);


Based on the industry tested and proven "diaphragm" principle: thigh is placed on a diaphragm (rubber disc with a hole in it) while a metal shaft extrudes downwards to push the bone out of the thigh. The disc retains the meat, while the bone is pushed through the hole in the disc.


In this process almost all meat is stripped off the bone, meaning minimal meat loss during deboning;


Discs with various hole sizes are available to debone thighs of various sizes;


Machine requires compressed air to run (air compressor sold separately)


Optional deboning table with ergonomic switch to operate the machine which keeps the hands of the operator free to handle the thighs.


Product Videos
1 video
Related categories Single Thigh Deboner
1 Category
5-.Cut-up, Deboning, Skinning, Portioning and Slicing
Related Products
1 Product
Other products of Dutch Poultry Technology
1 producto
Dutch Poultry Technology

DUTCH POULTRY TECHNOLOGY B.V. is a Dutch manufacturing and engineering company specialized in the design, manufacturing and installation of cost-effective, reliable, easy to install and operate poultry processing solutions for processing 500 – 6000 birds per hour.
Our semi- and full automatic processing solutions are based on proven technology and 30+ years of automatic processing experience. Lean engineering and manufacturing greatly reduce production, installation and operation costs.
See company
Price and product availability